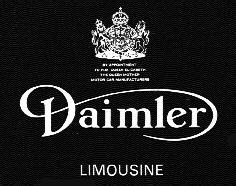 "By appointment to HM Queen Elizabeth The Queen Mother"
DS420 Limousine Model Description
The last Daimler model not shared with Jaguar was the DS420 limousine.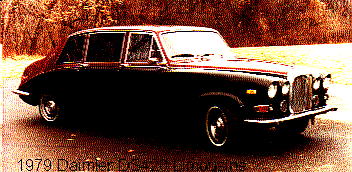 This is Craig's 1979 in similar colors to the Queen Mother's car: Claret and Black. This car is fitted with dual air conditioning, electric division, a rear stereo radio, and hood flag mount. Jaguar Publicity Photos: 1969 side view, 1970 front view, 1988 front/side view.
This car was a response to the Rolls Royce Phantom V limousine. It is precisely the same length and width, and shares similar interior dimensions and accoutrements. It is powered by a Jaguar 4.2 litre engine, with dual carbs and an automatic transmission. Weight is an impressive 4600 pounds unladen. Seating in the rear compartment consists of a standard bench seat with fold-out center armrest, 2 side armrests, and 2 occasional fold-out seats which store away against the cental divder. The front chauffer's compartment consists of a bench seat from 1967 until 1983, then dual bucket seats until 1992. The standard central division is a sliding glass window. An electrically operated up/down divider was available as an option. A rear cocktail bar and TV station was available as an option for the rear compartment. No radio is standard, but the standard mounting position is in the rear armrest (on either side) or in the cocktail cabinet (if fitted). On the fixed rear armrests are the rear seat heating controls, controls for the optional telephone to the driver, lighting controls for the rear seat reading lamps and footwell lamps, electric division switch (if fitted), and rear seat air conditioning (if fitted). Most automobiles were not fitted with air conditioning. Air conditioning was available as rear-only, or dual front and rear, each with their own controls. Another option was a personal flag mount for the center of the hood, the roof of the car, or the front wings (fenders). Of course, for royal use, a blue bullet shaped police light was standard on the roof. An interesting feature of this light is that it included a clear section at the top to light the personal warrant fitted to the top of the car. Bullet-proofing was listed as an option in some years.
Revisions
The car sold well for the first few years. By 1975, more than 2100 limousines and 320 chassis (for hearses) had been delivered, most of them in black or gray. In May 1972, a change was made to the window configuration. Instead of 3 roll down, 1 turn out, and 1 fixed windows per side, the two rearmost windows (1 roll down and 1 fixed) were combined to form one pop-out window. This made the car appear more modern and solved one of the worst problems of the earlier cars: water leaking into the area under the rear window would rust out the floor and rear suspension mounting points. It also elminated the opportunity for folks in the rear seat to use the window to wave to the masses from their position inside the limousine. Seriously, the removal of the rear windows meant less ventilation possibilities (hence more air conditioning sold in years without the roll-downs) but so greatly helped the rusting problem that the net effect is positive.

By 1976, DS420 limousines were available as "special order" with some "on speculation" cars built (and many of these included only minimal options like electric division).

In mid 1979, the front end of the car was "freshened" with square air grills and turn signals, and the "flying D" hood ornament was removed to be replaced with a flat insignia on the top of the grill.

In late 1979, the Vanden Plas coachbuilding facility in Kingsbury London where these cars were hand assembled was closed. The price began a high upward spiral, reflecting the "exclusivity" of a virtually handbuilt automobile.

In late 1982, the front seating was made bearable for the chauffers, who had been complaining for 15 years that the seating position was terrible. This change was to replace the non-moving bench seat that had virtually no back support with individually adjustable bucket seats. At the same time, the column mounted transmission shifter was moved to the transmission tunnel and fitted as the XJ6 series III was fitted: a long center console between the bucket seats.

A decision was made to continue production of the automobile until such time as it became economically unfeasible to continue production. The final blow came when the space the Limousine coachbuilding department took up was needed for the Ford-redesigned factory floor. The final regular production limousine was delivered in late 1988. A few chassis remained, and the final regular production DS420 automobile (a hearse) was delivered in 1992. Then, in a surprise to virtually everyone, the descision was made to produce "just a few more limousines", 4 years after production was officially ended! These final limousines were to be fully appointed. The first produced went to the Queen Mother. The second went to the Queen. The third car was to be used by Jaguar Coventry. The final car, still at Coventry in the possession of the Jaguar-Daimler Heritage Trust Museum, shows the lengths that were required to produce those final three cars. The car has an XJ6 steering column, XJ6 dash indicator lamps, a FUEL INJECTED engine (all regular production cars had carbs), no electric division or electric windows (oops, out of motors and switches!), a cocktail cabinet, and front A/C only. It's claret in color with a fawn interior. It is also available for chaufferred rental, as are most cars at the museum. A fourth car was planned for production, but it was unfeasable to complete it. A claimed 1994 DS420 was offered for sale in February 2003. The veracity of the claim that this is the fourth car, and was finished using both old and new parts, is unknown.

A total of 3,717 limousines and 802 chassis were delivered over the 25 year lifetime of the model.

Reported production figures show only 71 left hand drive cars and 2 laundaulets (one a left hand drive) up to May 1972. No additional Landaulets or left hand drive cars were cataloged as being produced as of late 1979, the last date of published information. After 1979, at least 5 additional left hand drive cars were built, possibly more. Some standard limousines have been re-built by specialty firms into landaulets. The two pre-1979 laundaulets carry car numbers 1M2488 (rhd-1973) and 1M20099 (lhd-1974).

A small number of cars were exported to a dealer in France, who "grey marketed" them into that country. These cars had no division window mechanism or barrier at all! The front seats were electric and sourced from the XJ6 series III. It is unknown whether the cars retained the occasional (jump) seats. If anyone has pictures or direct knowledge of these cars, please email me!

In 1970, HRH the Queen Mother took delivery of her very own DS420. This car, bearing car number 1M1559, replaced her 1952 Jaguar Mark VII (which itself had been upgraded continuously since delivery, with it being, in effect, a 1962 Mark IX when all was said and done; this car is presently at the Jaguar Daimler Heritage Trust Museum). The car was, as mentioned earlier, Claret and Black. The hood ornament was the lion mascot as used by King George VI, and the royal warrant was fitted to the top of the windscreen with a special blue police lamp which lit the warrant at night. This car also had a red pinstripe (coach line) in place of the normal gold line and chrome trim, dark blue and fawn cloth instead of leather upholstery, rear radio, and all electric windows. In 1978, HRH took delivery of a replacement with virtually identical fittings and carrying car number DWATL3AXL. In 1992, she received a replacement car, from the final batch of three. This car remained her primary car until her death in 2002.

For the hard core technophile, there are pages of mechanical and pricing and physical specifications available.

Of interest to all, price lists: 1974, 1976, 1978, 1987, 1990.

And an interesting Daimler Hire (Limousine) price list from 1970.

Other brochures and articles of interest:


For a very good laugh, or a shudder of horror, see Who knew Daimler Limousines and Hearses could race?!?

Read How to buy a DS420 for details on things to watch for when buying a DS420.

Developed by Craig Tiano, craig@vandenplas.com